WHAT IS NEET ADMIT CARD?
NEET Admit card is the hall ticket which is issued by the NTA (National Testing Agency) for the candidates whose application is successfully accepted for the NEET examination.
Once the application for NEET exam is submitted it will be verified by the NTA. If the application form is accepted then admit card for that candidate will be released while admit card is released for all candidates. The admit card can be downloaded in the NEET government website by the candidate when it is released by the NTA.
SAMPLE NEET ADMIT CARD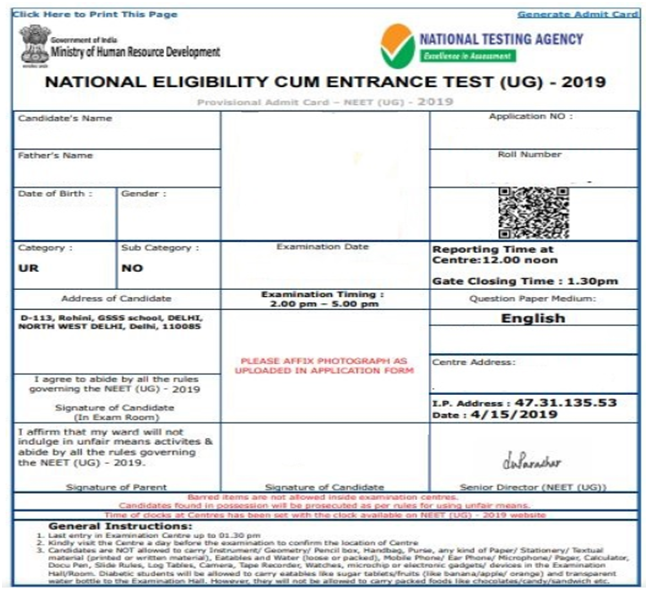 HOW TO DOWNLOAD NEET ADMIT CARD?
STEP 1: Visit NEET official website https://ntaneet.nic.in/
STEP 2: Click NEET ADMIT CARD link
STEP 3: Following page will appear. In that page ENTER the following details REGISTRATION NUMBER, DATE OF BIRTH, SECURITY PIN and click SUBMIT button
STEP 4: NEET ADMIT CARD will appear on the screen. Check all the details provided in the card, in case if there is any mistake in that admit card, for example any spelling mistake in name or changes in date of birth, the candidate can inform the admission committee of NTA to rectify the details. Mostly all information provided by the candidate in the application form will be taken to enter the details in the admit card, hence candidate has to provide details correctly while submitting the application form.
STEP 5: If the details are correct in the admit card, download the admit card in the PDF format and take print out of the admit card.
STEP 6: Candidate has to get his/her parent's signature in the column specified in the admit card.
DOCUMENTS TO BE TAKEN ALONG WITH ADMIT CARD FOR EXAMINATION
Candidate has to carry the following documents along with their admit card to the NEET examination
Two Passport size photographs one with admit card (affixed), another to be affixed in the attendance sheet.
Valid identity proof
Post card size photograph one (color with white back ground). Candidate has to affix this post card size photograph along with the proforma that has been sent with the admit card to the candidate. Candidate can download this proforma along with the admit card and can take a print out of it.
ADMIT CARD LOST AND RETRIEVAL
If the candidate loses his/her admit card, he/she can check the registered mail id given while submitting the application form. A PDF format of the admit card will be sent by the NTA to the registered email id.